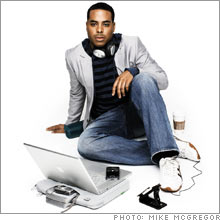 the director of my department walked into work last week & said, "i read an article about you." after that she hands me a fortune magazine with the cover story of "
attracting the 20something worker
," written by nadira a. hira, the cover contains a guy & a girl with casual outfits on, definitely not a power suit or even a briefcase. i flip through the article right away & say out loud, "you can't expect me to work for the next 30 minutes after handing me something like this." she laughs & knows i'm not joking.
i think the article is fantastic; it has weak spots, but overall a well written piece that a lot of people have been waiting for. i see a lot of myself & my friends in this article. it discusses our appearance (tattoos & piercings), our work place behavior (ipod listening, emailing, blogging habits) and our relationship with our parents (most of our worst case scenarios are moving home with mom & dad). while many interpret the article to say that we are lazy & spoiled, i see it as a statement of our place in today's workplace. we are a creative, innovative & efficient generation & while we work differently, we work just as hard. i'm not going to give too much more of an opinion in this post, i just want the visitors i have to read it.
the author is a perfect example of a gen yer, after writing this article she mentioned to her managing editor that fortune needed to better reach our generation & cover this topic...maybe
a blog
would be good. he agreed & put her in charge of writing it.