The last few months have had me thinking about inspiration & brainstorming, but more than just that they have had me thinking about where I get my inspiration & ideas from. I spend 8 hours a day in front of a computer & usually come home to another 2; I visit graphic design blogs, artist sites, photoblogs, flickr, design blogs, fashion blogs & a variety of online mags. I take in so much, too much sometimes. The content is neverending, but somehow after all of my searching & bookmarking, blogging & saving I feel a little less full than I'd like.
That's wear my print magazines come into play. I get a handful of mags at work (
GD USA
,
Print
,
ID
,
HOW
,
Metroplis
,
Dwell
), about once every two weeks, the lovely front office manager drops a magazine in my inbox. I always get giddy & tell her thanks; sometimes I have to resist hugging her & sometimes I do hug her. Then there are the magazines at home (
Fader
,
Nylon
,
Lucky
), they wait for me in my mailbox, they wait to make my evening. even further than that are the exchange mags from my boyfriend & friends (
Real Simple
&
Juxtapoz
). I love seeing that stack of magazines next to my couch; I love flipping through them, running my hands over the pages, tagging them with post-its & tearing out things i truly love. there is something about the glossy, the matte, the textured, the scented - the print.
When it all comes right to it, sitting down with a print magazine is good for the soul. I've asked some of my favorite bloggers (they do other things too) what their favorite magazines are & I feel honored to have them share their thoughts with us.
--
First up is the lovely Erin Loechner from
Design for Mankind
.
1. Name the magazines that you can't live without & why
Print
: I love print because the quality is like none other. Super great texture that you enjoy flipping through (I can't help it- I'm a tactile person!). The articles are to-the-point and often illustrate the current trends of graphic design while still maintaining a classic perspective of the art.
Domino
:
This, in my opinion, needs no explanation. I love the beautifully styled images of interiors and think it's the best representation of emerging home design/decor here in the states.
I.D.
: It's hands-down a must read for me. Brilliant international coverage and fantastic product design highlights. I always find something I've never seen in I.D.!
2. What are the biggest differences between print & web for you
I think the difference lies in the mood. Because I research on the web all day, I don't pick up my print magazines until the end of the day when I'm finished with blogging. A print magazine is my ticket to me-time, where i peruse and create tear-sheets and inspiration notebooks from what I see on the pages. there's just something to be said for holding inspiration in your hands rather than online.
3. Do you have a favorite feature, issue or image?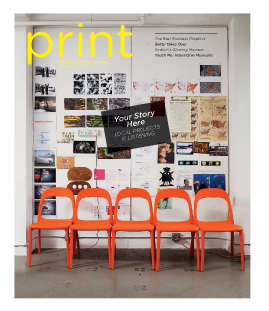 I've included an image of the cover from Print magazine (Sept/Oct 2007). This was a super great issue, as there were so many great articles that spoke to
the growing relationship between design and people
. isn't that what we all strive for?
--
Second is Strath Shepard from
P
acific Standard
.
1. Name the magazines that you can't live without & why
T: The New York Times Style Magazine
&
The New York Times Magazine:
I like it that essentially our country's paper of record pays really smart attention to its visuals (and obviously the editorial content is great). The regular NYT Magazine executes conceptual, interesting, beautiful graphics in almost every issue, and I always look forward to seeing what they'll do next. The tone of T can be a little annoying sometimes, just like any trend-focused magazine, but the art direction is always impressive and full of surprises. Each issue is a well-realized set of ideas surrounding a theme, at that specific point in time.
Self Service
: To me, this is the best fashion magazine out now. There are many magazines with great fashion photography (
V
, all the Vogues,
Numero
,
Purple
,
Another
, etc.) but Self Service covers fashion in such a unique, really smart way, and has great long interviews with people like
Vince Aletti
and
Malcolm Gladwell
and
Stefano Pilati
, so it's all done within this larger context of art and creativity in the world. The typography is also mind blowing. It's $30 an issue, but if you think of it as a book, that's a pretty inexpensive, really beautiful book.
New York
: I will always subscribe, even when I move to Seattle. I am continually impressed with how much information they are able to pack into it while still managing to keep the layouts airy and fairly luxurious. In part I think it's because they don't do a lot of color type inside the magazine—other than the images, things tend to be very black and white—and they maintain their grid consistently. They know when to make things big and when to make them small. The art direction for things like The Strategist is top notch. I also love the food styling.
2. What are the biggest differences between print & web for you
New York magazine is actually an interesting one to think about in comparing print and web, because their website translates and expands on the magazine very well, and maintains the style of having a lot of white space and a lot of really well organized information. I use the website for more utilitarian purposes, whereas I will spend time with the printed magazine.
With magazines in general, I like the feeling of having a self-contained object—when it's really good, a magazine is like a little world you can escape into.
3. Do you have a favorite feature, issue or image? (oh what gorgeous pics!)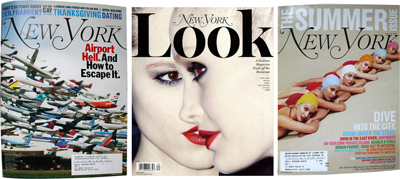 --
Next is artist extraordinaire,
Jess Gonacha
of
Treasuring
.
1. Name the magazines that you can't live without & why
Domino:
I love looking through Domino for inspiration on what to do with my house! It's also a great place to get the scoop on what's going on in the design world right now, and showcases lots of current trends. I tend to not follow the trends per se, but I think everything that is going on right now influences my work. I love how Domino doesn't feel stuffy at all, and they have projects for al budgets and is very hands on.
National Geographic Magazine:
I especially love the really old ones, because they always spark ideas that I wouldn't have had before. I love the aged feeling of the photographs, and I am so curious about the world that the features on different cultures and places in nature are fascinating to me. These are my go-to magazines when I want to spark my imagination.
IDN:
All I can say is this magazine is INCREDIBLE. It costs a lot here (it's published in Hong Kong), but is totally worth it. The first time I saw it at Barnes & Noble, I grabbed it and went straight to the checkout counter. The magazine is filled with incredible art and design and amazingly talented people-- it has a raw feeling to it, and full of passion. This is by far my favorite art/design magazine.
2. What are the biggest differences between print & web for you
The difference between print and web for me is VAST. A lot of times the internet doesn't seem real to me-- I can't hold onto any of it, and I have a hard time keeping track of everything I like on the internet. I LOVE tearing things out of magazines, posting things on the walls around my desk, hoarding copies of favorites magazines for later inspiration...
I just like the feeling of being able to actually hold an image in front of me and know where I can find it when I need it-- plus, I love the aesthetics of stacks and stacks of old magazines. It's like a mound of inspiration just waiting to be had! Also, it's harder for me to get overwhelmed by magazines. The internet can be such a rabbit hole, and there's so much visual stimulation-- sometimes it's too much for me. A magazine has a contained amount of stuff in it-- a beginning and an end, which is great for me!
3. Do you have a favorite feature, issue or image?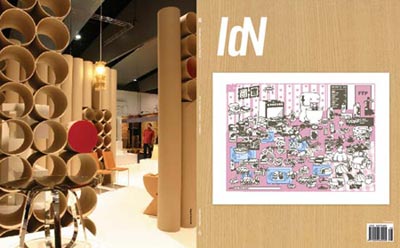 image courtesy of

stewart barrett
My favorite part of IDN is when they interview artists. I love hearing about the process behind an artist's work, so I just devour interviews.
--
Sarah Taylor of
Design Dig
.
1. Name the magazines that you can't live without & why
Domino

: It's a perfect mix of chic and whimsy. I am never disappointed.



Teen Vogue

: This is a guilty pleasure of mine. For me it is unlike any other fashion magazine. It's young and free, yet still classy and totally doable.


2. What are the biggest differences between print & web for you
This may sound totally dorky, but when I get a magazine in the mail my day is officially good! It becomes an experience for me. I love laying out by the pool with my dog taking in every little detail from my favorite current design or fashion magazines. My mom and I have very different taste, but its always a joy when we look at our design magazines together. We eat treats, drink coffee, and straight up chill on our big blue couch. It's a good time. Blogs are brilliant. It is such a blessing to see so many beautiful things everyday, but blogs (at least for me) don't give me that experience that magazines do.


3. Do you have a favorite feature, issue or image?
This living room is so so so dreammyy (May issue of Domino)

--

Ms Rachel Jones of

Black*Eiffel

.


1. Name the magazines that you can't live without & why
Cookie
: It makes motherhood feel hip and fun. There are a variety of great ideas ranging from children's clothing lines, food and travel ideas, interiors ... etc..
Living Etc
: Multiple foreign magazines are constantly finding their way into my hands because their content often seems a bit more fresh and edgy. The most foreign back issues on my shelves are those of (british) Living Etc. It is full of modern and glossy full bleed images of gorgeous interior spaces.
Communication Arts
+
Print
Design Annuals: These are a couple more that I can't live with out. I feel like a kid in the candy store when mine arrive. They share the best selections, awards, and trends of what is going on in the design and art world.
Domino
: I think their tagline pretty much sums it up, "The Guide to Living with Style". This is one of the few U.S. interior design magazines that I love and read cover to cover.
2. What are the biggest differences between print & web for you
Print: Glossy, tactile, extremely portable, tearable, eye contact friendly, color rich
Web: no physical storage needed, easily organizable and accessible, less expensive, no printing/paper used
3. Do you have a favorite feature, issue or image?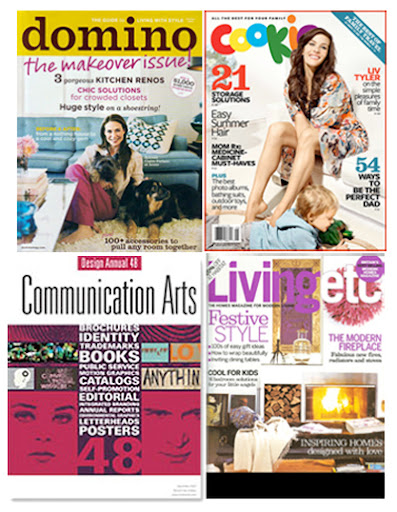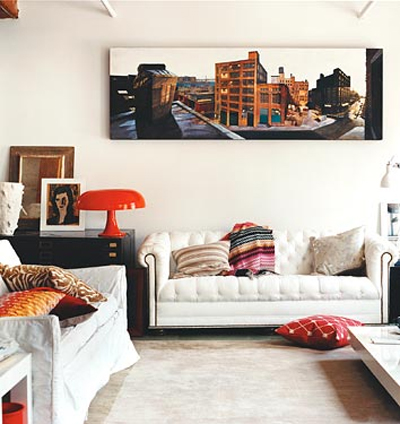 --

Now the lovely Tula of

Whorange

fame.


1. Name the magazines that you can't live without & why
I've subscribed to each of these magazines
forever
-- perhaps over 80 years.
Bust
: It's a magazine "for women with something to get off their chests." That's their tagline. If this magazine doesn't make you a mag hag, nothing will.
from kick ass book and music reviews, to articles about the lives of international women, to sex advice from aunt betty, to fashion spreads featuring fine looking ladies with REAL bodies, I can't get enough of bust.
It's the ultimate, cool, no-holds-barred celebration of gal-hood.
Harper's
: magazine is "a monthly general-interest magazine covering literature, politics, culture, finance, and the arts from a progressive, left perspective."
I just lifted that from wikipedia.
Nice, right?
Along with the fantastic articles and clever literally excerpts, I love the "Harper's Index" which is a compilation of ironic statistics ranging from the terrifying and political to the culturally bizarre.
I once worked for this film production company where I pitched a few political articles I found in Harper's magazine.
Everyone nodded their heads and couldn't believe I found an article of such political depth amongst the makeup tips and fashion spreads.
I realized they thought I was talking about Harper's Bizarre.
Ready Made
:
The do-it-yourselfer's bible.
Ready Made has always been the spring board for inspiration, eco-living, and DIY design. Over the years, I've cobbled together everything from a bed to my wedding invitations using their ideas. One of my favorite sections is the MacGyver challenge in which readers are presented with the challenge of repurposing everyday, common items such as a broken umbrellas, film negatives, and light bulbs into something useful and/or artful.
Ready Made also has a great website which features an archive of all of their projects.
2. What are the biggest differences between print & web for you
I prefer reading as much as I can online as a way to reduce my paper use.
Everything from books to scripts to articles...give 'em to me online.
I can handle it. However, most magazines (wisely) do not offer their print content online.
Therefore, my small collection of must-have-mags continues.
3. Do you have a favorite feature, issue or image?
Some of my favorite features are Bust's gift guide and Ready Made's IKEA makeovers.
--

Last we have Uncle Beefy of

The Bedlam of Beefy

.


1. Name the magazines that you can't live without & why
Domino:
I know. No one has ever heard of this so it probably won't be mentioned by any other bloggers. ;) But, I can't help it!!! I just enjoy it so much! It's so well put together from an editorial perspective. That alone! Almost. I love the way they encompass travel, design, decor, diy, food & entertaining...so comprehensive. And there's generally a good balance between astronomical and affordable. Show me how I can redo my kitchen for $200 and I'll let that $12,000 pillow slide. Know what I'm sayin'?
Country Living:
Honestly, I never thought I'd pick this one! But what can I say...I'm a little bit country and a little bit rock n' roll! It calls to the more rustic and playful side of my aesthetic and is a refreshing change from the high-design magazines I [still] love and enjoy. When I was thinking about my favorites this automatically came to mind as one I hope to see in the mailbox. Now...that said...they've recently "freshened up" the format (which I liked) but then seemed to call upon the mid-1970's for the actual print production...? The quality of the printing and paper seems a bit lacking now. Which, to me, starts to lend the feeling that the publication is dated and not modern or relevant. I hope they reconsider this before it affects circulation. (Sorry...now I'm sounding all cocky and authoritative!) I still love you Country Living :)
Gourmet:
I know it isn't a design magazine but this one is a certifiable gasp and swoon when unveiled! From an aesthetic standpoint, it is top-notch with it's luscious photography and layout. From a food perspective...BRING IT! So many wonderful features about regional and cultural cuisines, great recipes (I haven't been disappointed yet.) that range from easy-peasy to all-day-in-the-kitchen, and I seriously heart Ruth Reichl's
Letter['s] From The Editor
. I have something of a foodie-crush on Ruth.
2. What are the biggest differences between print & web for you
Obviously, as a blogger, I have no major issues with the web versus print publication. When I am online I feel I can connect to multitudes of information at such a rapid pace...link, link, link! It's great but can become something of a whirlwind. At heart, I'm a tactile kinda guy. I love to touch, feel, smell, etc. And magazines help connect me to that tactility. And it's just nice, in this crazy, multi-tasking-is-the-greatest-thing-ever (NOT!) world to have an opportunity to just relax and flip through the pages...one at a time.
3. Do you have a favorite feature, issue or image?
--
Thank you so much to all of you for taking to time to help compile this list of our favorite print mags! Do all of you need a rundown?
Graphic Arts & Illustration
Print
ID
Communication Arts
IDN
GD USA
HOW
Juxtapoz
Fashion & Style
T: The New York Times Style Magazine
The New York Times Magazine
Self Service
V
Numero
Purple
Another
New York
Teen Vogue
Lucky
Interiors & Design
Domino
Living Etc
Country Living
Gourmet
Metroplis
Dwell
Real Simple
Culture, News & Other
Cookie
top image from

jim skea